by Sara Elhawash
The day-long event was filled with engaging lightning talks, poster sessions, discussions, networking activities, interactive panels, and a focus on data-driven solutions for social good. It was a celebration of the remarkable interest, participation, and collective impact achieved by the DSI community. Moreover, it provided a platform for the DSI community to showcase their work and cultivate connections with collaborators from academia, industry, and government. 
The day began with a captivating keynote address delivered by Dr. Manuel Garcia-Herranz, Data Principal Researcher, UNICEF.  He emphasized the transformative power of Frontier Data technologies and their potential to address pressing global challenges. He discussed how the diversity and volume of data are reshaping technology's capabilities and changing the world in profound ways. 
Dr. Garcia-Herranz also highlighted the importance of addressing data inequalities, noting that data from less privileged regions is often lacking. He underscored the need to bridge the gap between data scientists and those responding to real-world emergencies. One of the key collaborations highlighted during the event was the partnership between DSI and UNICEF on the Summer Undergraduate Data Science (SUDS) program.   
Research Day featured a series of enlightening lightning talks under the theme Data for Social Good, moderated by Bree McEwan, Associate Director, University of Toronto Mississauga, Data Sciences Institute and featured Madeleine Bonsma-Fisher, Data Sciences Institute Postdoctoral Fellow, Professor Marie-Josee Fortin FRSC, Canada Research Chair in Spatial Ecology (Department of Ecology & Evolutionary Biology, Faculty of Arts & Science), Assistant Professor Zahra Shakeri, Dalla Lana School of Public Health, Assistant Professor Nidhi Subramanyam, (Department of Geography & Planning, Faculty of Arts & Science). The talks showcased research that demonstrated how data science can improve lives and enhance human experiences. Topics ranged from equitable prioritization of active transportation infrastructure in Canadian cities to the use of anonymized movement data to assess urban park usage and more. 
Another set of lightning talks, Methodologies in Novel Applications, moderated by Ethan Fosse (Associate Director, University of Toronto Scarborough, Data Sciences Institute) featured Assistant Professor Jessica Gronsbell (Department of Statistics, Faculty of Arts & Science), Professor Peter Marbach (Department of Computer Science, Faculty of Arts & Science), and Senior Scientist Babak Taati (KITE Toronto Rehabilitation Institute, University Health Network). Their talks delved into innovative methods applied to critical issues in health and social sciences. Topics included auditing fairness in health applications, uniting sociological theory with data science concepts, and using machine learning to assess fall risk. 
During the networking lunch, the DSI community had the opportunity to engage with the excellent work of graduate students and trainees who presented their research via posters.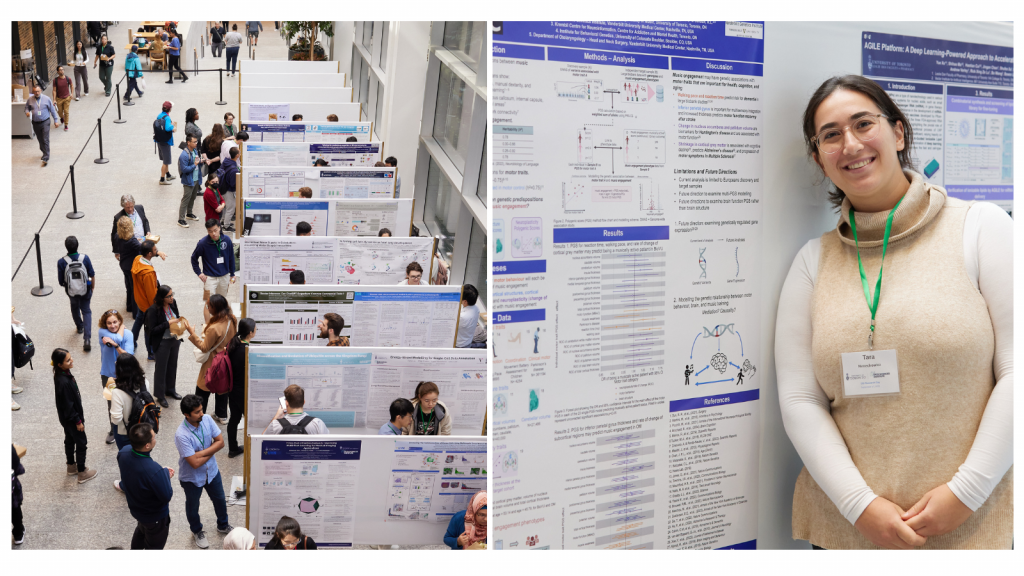 These poster projects covered a wide array of topics, showcasing the diversity of research within the DSI community. Among the poster presenters was DSI Graduate Doctoral Fellow Tara Henechowicz, who shared her work that explored the intriguing connections between genetics, motor traits, and music engagement, highlighting its impact on health, cognition and aging. The posters were a testament to the depth and breadth of research happening within the DSI community. 
Shayan Hodai, a student studying AI at George Brown College, shared his enthusiasm for the day, "My passion for machine learning and data science brought me here to explore how to best apply computational tools to health and genetic science. It was a really inspiring day."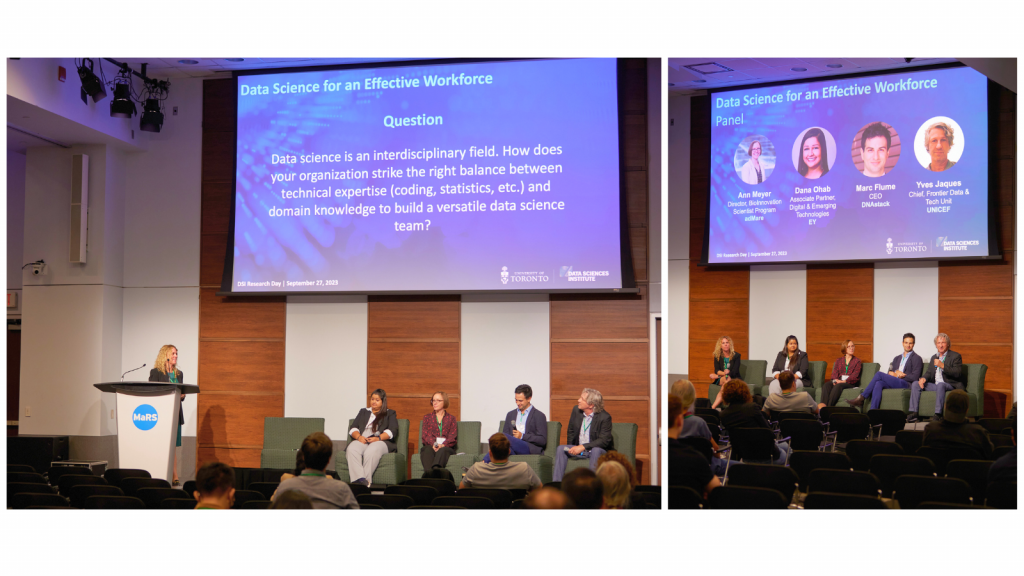 The day concluded with a panel discussion on Data Science for an Effective Workforce, moderated by Lisa Strug, Director of the Data Sciences Institute. Industry leaders from various sectors, including Yves Jaques, Chief, Frontier Data & Tech Unit at UNICEF; Ann Meyer, Director, BioInnovation Scientist Program at adMare BioInnovations; Mark Fiume, Co-Founder and CEO, DNA Stack, and Dana Ohab, Associate Partner, Digital & Emerging Technology at EY, came together to discuss how data science is reshaping workforce efficiency and effectiveness. The panel illuminated the profound impact of data science on decision-making, strategic planning, and operational excellence. 
After the panel discussion, Shefali Lathwal, new to the Toronto Data Science community, shares, "I wanted to know more about who the main players in the field are. I really liked that we had both academic researchers and industry-focused talks, especially the last panel on Data Science for an Effective Workforce. It's nice that we looked at areas beyond generative AI and explored where else data is being applied. These are areas that don't get much attention like big tech projects, so it was nice to hear about these projects that tell you that data science is not all about big data necessarily. There are many fields where Data Scientists are needed to solve meaningful problems." 
The Data Sciences Institute extends heartfelt thanks to all of its funding partners, including our gold sponsor Amazon Web Services, for their support in making this event possible. The day was a testament to the collective power of data science to shape a better tomorrow.  
To watch the video recordings, click here.  
Photos captured by Harry Choi